2Solar Options
Options, extra's
& added value
2Solar can do a lot. And more. Because in addition to all standard tools and extensive features, you can also choose from a number of extras. Added value for you, more value for your customer.
ontdek meer
Pro-active
Marketing automation
Is it quiet around a lead? Do you want to activate a potential customer after a sent quote? Have 2Solar automation performed (send an e-mail) when a status remains unchanged for a long time. You create the templates yourself, so you always communicate in a way that suits you.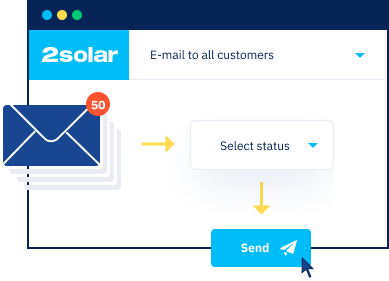 Fast service & short lines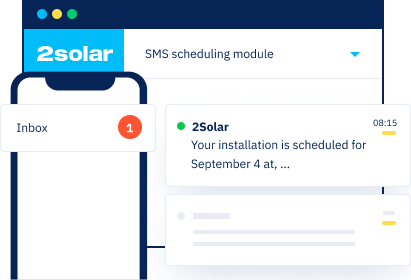 Send a message
SMS for planningsmodule
Fast, short and powerful. Add the SMS tool to your 2Solar Planning module and communication is even easier and more efficient. A message about a rescheduled appointment or about an adjusted delivery time; Your technician or installer is automatically and immediately informed.
Design
The smartest subscription module: draw solar panels on current aerial photos and make laying plans in 3 minutes.
View product
Quote
Make your quotes smarter and faster with data from your installation plan, automatic calculations and clear templates.
View product