2Solar Monitoring module
Also after delivery
visibility and grip
on your installations
Check and manage your solar panel installations remotely and at any time. Handy for you and an attractive service for your customer.
Discover more
Manage your installations
Status, service, failure: always in control with the monitoring tool
Your projects are completed after delivery, the checking and service continue as usual. Very simple with the monitoring tool. Real-time insight into data, automatic notification of defects, alerts when the system is on or off. That too is 2Solar.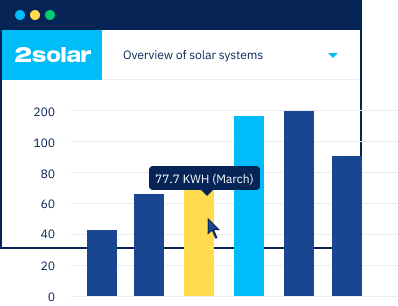 Monitoring
Control over solar systems
Does your customer get the most out of his solar system? Can the yield of his panels be increased? 2Solar measures and records. You can see what the situation is and what could be improved every month, week or day. That way you always have up-to-date input for excellent advice and service.
Up to date
Automatic notifications
No more long-term defects or failures, because with 2Solar you know for sure that everything works. You will receive automatic notifications if your installation is not functioning properly. Yield, mains voltage or signal, with this tool you can see it all.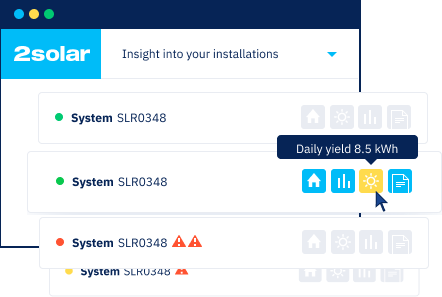 Always insight
Insight. Always and everywhere
Wherever you are, whenever you want information: 2Solar is an online solution, so you have access to your data anywhere, anytime. Insight when needed, check when you want. Your data is saved and monitored on a server in the Netherlands. Safe and close.
Alerts
On/off alerts installation
A sustainable solar system is a system that works. Or at least turned on. That is why the monitoring tool contains automatic on / off alerts. That way you can be sure that your customer gets the most out of his solar panels.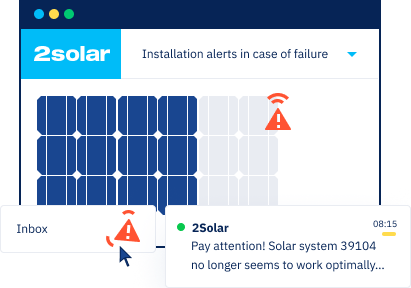 Fast service & short lines
Reporting
Leads, statuses, statistics and management information. Go for optimum overview and insight, at any time.
View product
CRM & Workflow
Customers, projects, relations, sales: all data in one place. Overview, insight and control for everyone in your company.
View product