2Solar Invoicing module
Your invoices,
Ready in no time
It's that easy: a few clicks and your invoice has been created and sent. All customer data, hours and products, from your 2Solar modules on the invoice.
Discover more
Fast and smart
From approved offer to complete invoice
Hours, materials, order lines and price agreements; All required data is already in your 2Solar platform. And with a few mouse movements they are on the invoice. Naturally made up in your own house style.
Variable payment terms
Choose your payment term
Within 14 days or within a month. The payment terms are variable, you choose them yourself. 2Solar software adapts to your billing and payment conditions. Here too applies: 100% customization.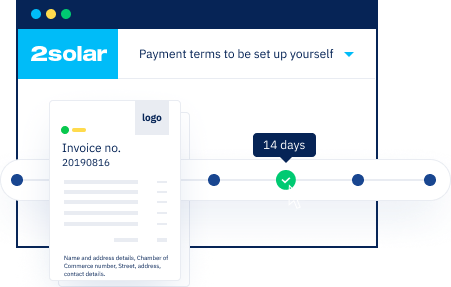 Own corporate identity
Invoices in your house style
Your invoices, your corporate identity. It's that simple. With 2Solar you create and send invoices in the style of your company. Logo, colors, layout; Everything can be designed according to your wishes. And the great thing is, we program it for you.
Smart integrations
Link with known packages
2Solar software stands for smarter working and collaboration. It is therefore logical that our software can be linked to the financial packages and accounting platforms that you already use. Exact, AFAS, Navision, SugarCRM or SAP: connect it with 2Solar, link your data and work more efficiently.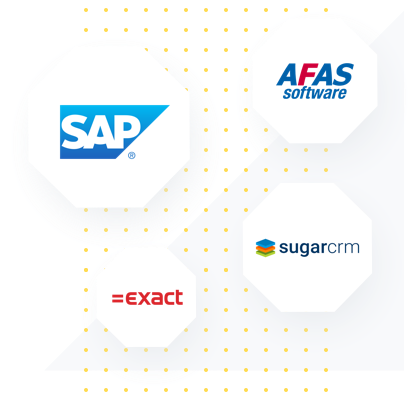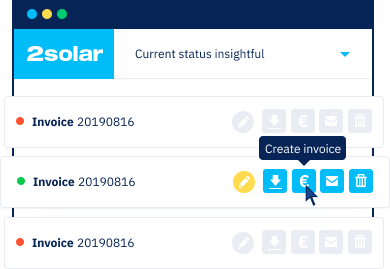 Useful notifications
Invoice on time and quickly
2Solar gives you a signal as soon as an invoice can be issued. The project status changes with every completed step in your workflow: offer agreement, work completed? You or your administration department see immediately. Project ready? Just invoice.
Fast service & short lines
Quote
Make your quotes smarter and faster with data from your installation plan, automatic calculations and clear templates.
View product
Delivery
Delivery documents, material lists, delivery reports: everything at hand, for you and your people.
Bekijk product