2Solar Contracten module
Clear agreements,
Clear contracts.
Easily done
Making contracts, sending them and – very importantly – having them signed. Everything within your effective and safe 2Solar environment.
Discover more
Easy and clear
Creating and managing contracts: very easy with 2Solar
Creating and managing contracts is suddenly easy with 2Solar. Use templates for layout and completion, send the contracts from the module and have them signed online in our secure Sign2Cloud environment. Easy for you, clear for your customer.
Rent or lease?
Making contracts
Rent or lease solar panels? You make clear agreements on this. And you record that with clear contracts. You can easily make that in 2Solar. You work quickly with practical and complete templates, in your own house style of course. This way you can make good agreements in a short time.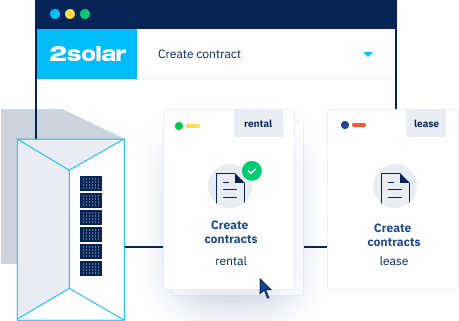 Fast service & short lines
CRM & Workflow
Customers, projects, relations, sales: all data in one place. Overview, insight and control for everyone in your company.
View product
Quote
Make your quotes smarter and faster with data from your installation plan, automatic calculations and clear templates.
View product